HOW IT WORKS?
WRITING A PAPER HAS NEVER BEEN SO EASY BEFORE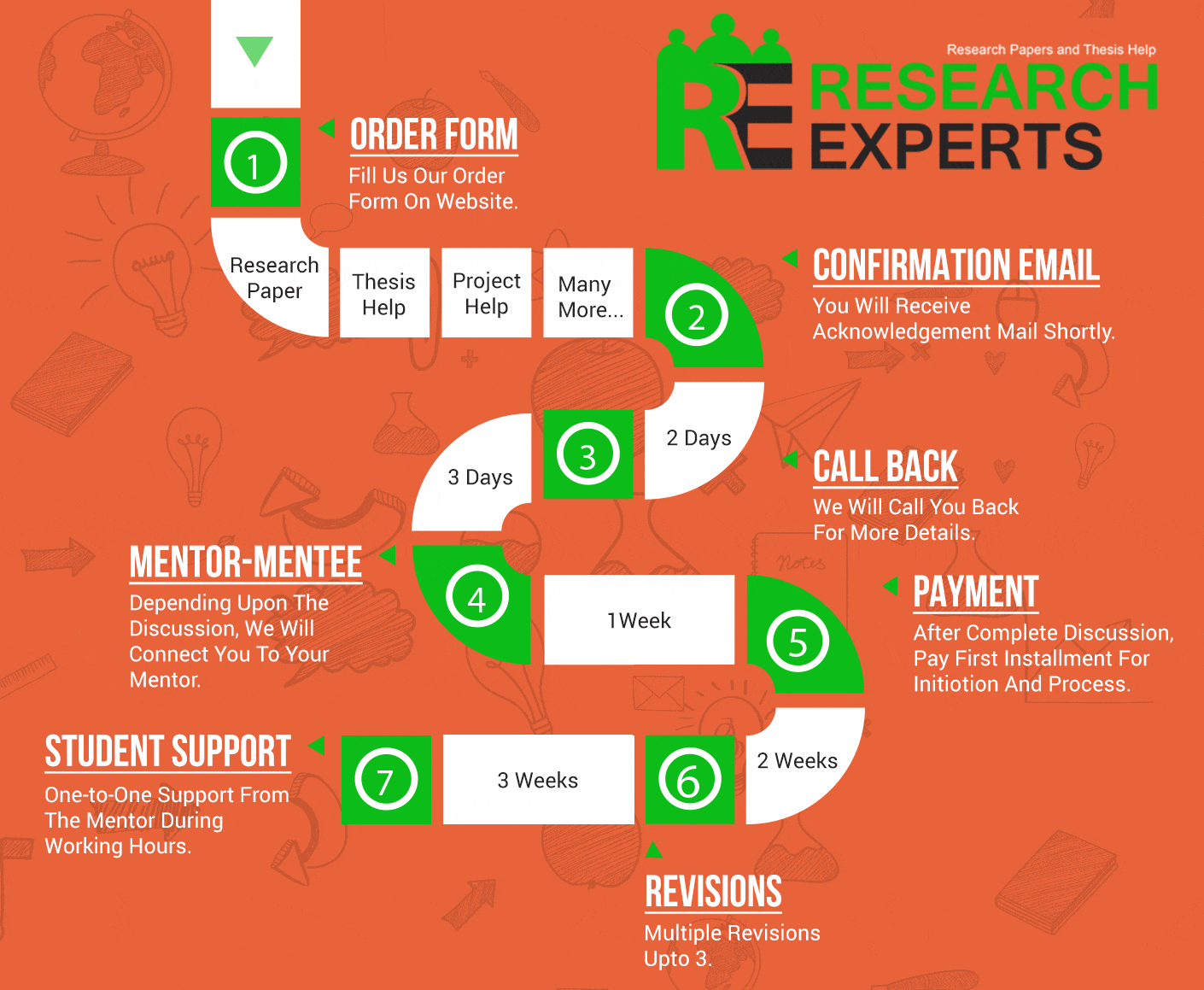 1. Order Form:-
The process starts when you fill up the order form with your requirements. It is a descriptive form to let us know your academic level, the area of study and brief about the requirement. Fill as much info as you have to better understand your work.
2. Confirmation Email:-
After the form has been submitted, you shall receive a confirmation e-mail including the acknowledgment of the receipt of the receipt of your request. If you do not find it in your inbox, check your SPAM/JUNK folder.
3. Call back:-
We will go through the details you sent including any study material provided. Upon completion of the analysis, we will arrange you a call back for a discussion about the final requirements.
If the representative understands the requirement and agrees to work on your paper, then we will provide you with a price.
4. Mentor-Mentee:-
Depending upon the requirement, we will connect you to your Mentor who will guide you through your work until it is completed. You will have a one-to-one conversation on phone, email or Skype with your mentor to find out all the possible ways to complete your work.
5. Payment:-
As per your requirement, we will provide you a unique price for your work. Once you agree to choose our expert to do your work for the suggested price, you will submit the first installment of your payment, i.e. 50% of the total amount to give a start to your work. No money is charged until you agree to choose our experts to your work.
6. Revisions:-
Work we provide is free of errors, highly researched and includes proper references to the sources. We also provide free revisions to all orders as stated by our Revision policy.
7. Student Support:-
You will be provided full support for 3 weeks after completion of your work. You may ask for changes in your work as directed by your college/guide but within the deadlines of the first set of requirements.
Still in doubt? Ask us
How Research Experts service works?
It is as easy 4 steps

Fill in the order form

Talk to your mentor

Submit initial deposit

Receive your paper
STEP 1
Fill the order form and submit. You will be contacted by the concerned department via e-mail, Skype or telephonic call.
STEP 2
Have a healthy communication with our team member and define your subject of writing in detail. If the representative understands the requirement and agrees to work on your paper, then we will provide you with a price.
STEP 3
You will have to submit 50% of the quoted price in advance as commitment (which is completely refundable if for any reason your work is not done). Once the payment is received, our team will proceed further to thoroughly research the topic and writing your paper, in order to deliver it within the agreed time.
STEP 4
We are happy to provide revisions in the paper for the top-notch quality, but as we take utmost care for the quality and error-proofing of papers, we only provide 3 revisions for a paper. The moment you're happy with the paper, you will need to pay the rest 50% of the quoted amount and you will receive the paper in .DOC format.