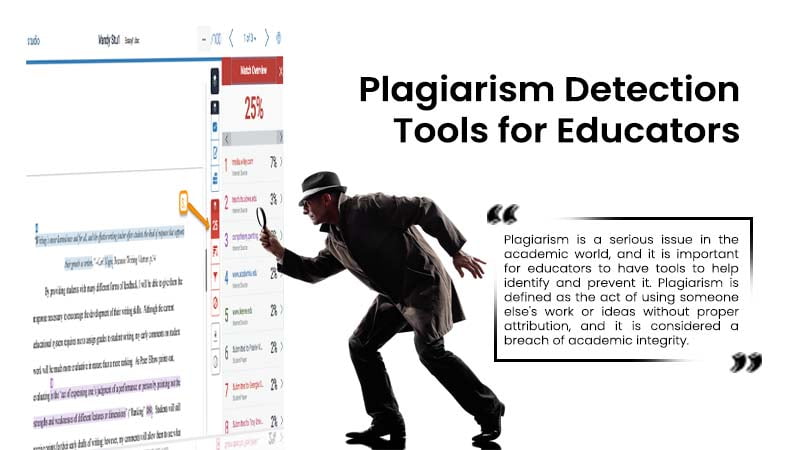 Educational Plagiarism Detection Tools
Total Views: 338
Daily Views: 1
Educational Plagiarism Detection Tools – Since detecting and preventing instances of plagiarism is crucial in the academic field. It is essential that teachers have access to the necessary resources. Plagiarism is described as the theft of another's original ideas or work without giving credit where credit is due. Plagiarism's repercussions are serious and long-lasting, so resist the urge to cut corners. There are several Educational Plagiarism Detection Tools in the market, and some of the plagiarism tools have been mentioned in this article.
Plagiarism detection software is one method that may be used by teachers to prevent academic dishonesty. In order to detect instances of plagiarism, these programs compare student submissions to a massive library of published works, including articles from the web and scholarly magazines. The program creates an Originality Report once a student uploads a paper to it, highlighting any identical content and giving a similarity score.
Plagiarism detection tools
There are several plagiarism detection tools available, including Turnitin, SafeAssign, and PlagScan. Each tool has its own features and capabilities, so it is important to research and compare the different options to determine which is the best fit for your needs.
It is crucial to realize the limits of plagiarism detection software, despite the fact that it may be a valuable tool for spotting probable instances of plagiarism. These systems are not perfect and may incorrectly label referenced material as plagiarised. Teachers need to check the marked text and its sources to see whether it's acceptable to utilize in the classroom.
Anti-plagiarism measures for educators
Teach students about academic honesty and citation: Students need to know that plagiarism is unacceptable and that they must properly credit their sources in order to get credit for their work. Student learning about academic integrity may be aided by the availability of materials and seminars on the topic.
Set clear guidelines:  Plagiarism standards, including the repercussions for detected students, should be made plain to students and faculty at the outset of any academic program or school. Students should be made aware of and held to these standards.
Encourage students to seek assistance: Students who are struggling with their assignments or feel overwhelmed may be more likely to resort to plagiarism. Encouraging students to seek help from professors, tutors, or writing centers can prevent plagiarism by providing support and guidance.
Conclusion
By using plagiarism detection software and implementing other strategies to promote academic integrity, educators can help prevent plagiarism and maintain the credibility and integrity of the academic community. While it may take more time and effort to properly cite sources and do one's own work, it is essential for building a strong foundation for academic and professional success.