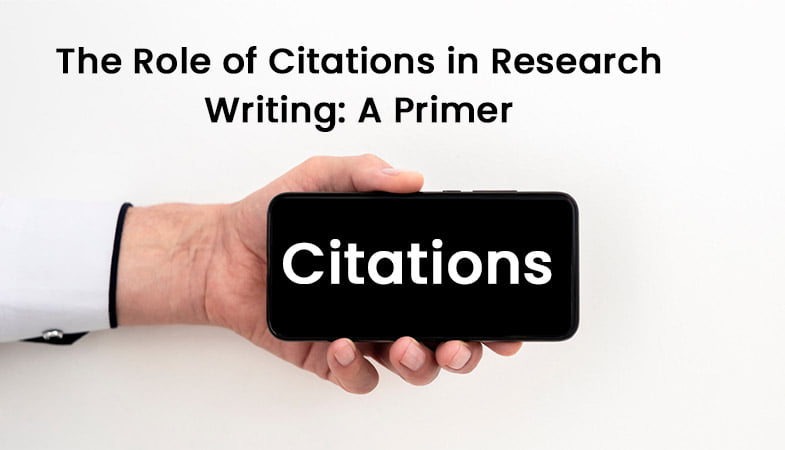 Role of Citations in Research Writing
Total Views: 222
Daily Views: 1
Role of Citations in Research Writing – Citations play a crucial role in research writing by giving credit to the original authors and helping readers locate the sources used in the paper. They are an essential part of the research process and should be given careful consideration when writing a research paper. Learn about the Role of Citations in Research Writing.
The primary purpose of citations is to give credit to the original authors. This is important because it recognizes the contributions of others to your research, and it helps to establish the credibility of your paper. Citations show that you have done your research and that you are familiar with the existing literature on your topic. Citations also help readers locate the sources used in the paper. This is important because it allows readers to verify the information you have presented and explore the topic further. By including citations in your paper, you are providing readers with the tools they need to engage with your research in a deeper and more meaningful way.
Learn about citation styles
MLA, APA, and Chicago are just a few of the many citation styles that are often used in the process of creating research papers. Because the standards and regulations for formatting citations differ depending on the citation style, it is essential to understand which citation style is needed for your article and to adhere to those criteria as precisely as possible.
It is essential that you maintain consistency if you are inserting citations into your research work. Use a citation style that is consistent across the whole of your work, and check to see that all citations are structured appropriately. This will assist in giving your paper a more professional appearance and will make it simpler for the audience to find the sources that you have utilized in your work.
Learn the difference between quotes and paraphrases
It's important to recognize the distinction between a direct quotation and a paraphrase. It's crucial to utilize quotation marks, the author's name, and the page number when employing a direct quote. The author's name and the relevant page number must be included when paraphrasing, although quotation marks are not required. It's crucial to use your own words and to paraphrase material when feasible since overusing direct quotations might make your paper seem more like a compilation of other people's writing than it does your own.
Keep track of your sources
In the process of doing research, one important step is to make sure you are keeping track of your sources. This involves making a note of the author's name, as well as the title of the work, the information about the publishing, and the page numbers. This information is required in order to create the works cited page, also known as the reference page. When doing research, it is important to maintain track of all of your sources. Tools such as citation management software may be useful in this effort.
The incorporation of citations into a research paper might be a time-consuming activity, yet, it is a vital stage in the process of writing. Citing sources in the correct format not only pays credit to the original writers but also makes it easier for readers to find the sources that were utilized in the article. Keep in mind that citations are not only a method for giving credit where credit is due by acknowledging the original writers of a piece of work, but they also establish the legitimacy of your study and make the work more trustworthy.
Lastly, before handing in your paper, you should check the works cited or reference page for quality and consistency, ensure that all sources are included in the appropriate format, and verify that all information is correct. In addition, it is essential that you make consistent use of devices or software that checks for plagiarism to ensure that you do not unknowingly commit the severe academic offense of plagiarism.
Conclusion
In conclusion, citations are essential in research writing because they show respect for the work of others and allow readers to find the sources that were consulted. You can properly cite sources and give credit to the original authors by familiarising yourself with the different citation styles, keeping track of your sources, using in-text citations, being consistent, knowing when to use a direct quote versus a paraphrase, checking for accuracy and consistency on the works cited or reference page, and using plagiarism checker tools. After some time and effort, you'll be able to master the art of properly referencing sources in academic writing and find your way about the research paper landscape with ease.