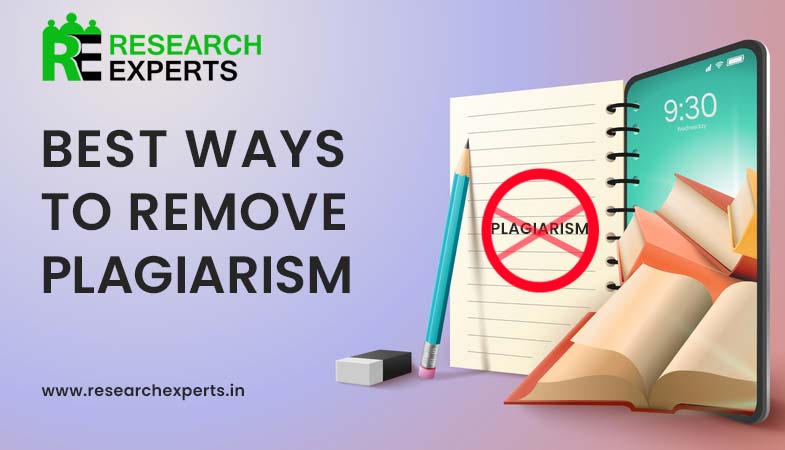 Best Ways to Remove Plagiarism
Total Views: 3,788
Daily Views: 3
"Plagiarism is nothing but just a fear of blank page". It means when you start writing a document with no content, you are left with no other option than gathering the data from many sources for any kind of research just to overcome the fear of this Blank Page, but did you think how to remove plagiarism? OF COURSE NOT!
It is difficult to get plagiarism-free data. Plagiarism means to steal or copy someone's data, work, ideas either it is published or unpublished, Plagiarism can never be tolerated. Many universities and colleges have specified their regulations to control plagiarism. As per the latest letter of UGC, conditions of plagiarism for successful thesis submission are applicable.
For any thesis submission, it is mandatory to make it plagiarism-free. So here through this article, we are giving some best/easy ways to remove plagiarism.
Create your ideas
The very first and the best way to remove plagiarism is to write the content in your way, using your ideas and creative skills. Being a good writer, it is your responsibility to create the content on your own, as by creating your material you will surely get 100% unique content.
Consult with your guide
It is always advisable to contact your supervisor/ mentor/ guide to discuss the problem of plagiarism. Their experience of years do matter and they can suggest a better way to write your content. Instead of hiding it, it is best to discuss with your guide.
Citation
Citation is a way to give proper credits to the person whose content you are taking. The citation includes the author's name, date, publication name, DOI, etc. and is also known as references. Your references or citation should be in proper format among the various pre describe formats available like American Psychological Association (APA), Modern Language Association (MLA), and Chicago/Turabian style, etc. if you are doing proper citation it can reduce the plagiarism but it cannot remove completely.
Online tools to check and remove Plagiarism
Nowadays, technology is the solution to every problem and the same as in the case of Plagiarism. There are several online tools available to check and remove plagiarism that enable us to find the copied content from a verified source and help us to remove the accidental or intentional plagiarism. There is no such tool available that can make your content creative keeping its originality. It is not advisable to use such tools as these can degrade the quality of content.
By using vocabulary
It is the best way to remove plagiarism. Text written in the document should be replaced with their alternative word or we can say with their synonyms also help to get rid of plagiarism. For example, if someone is using the word 'Bribe' in their work than we can be replaced with 'Suborn' or 'Lure'. No doubt, it is a better way to reduce plagiarism but it cannot remove it properly because we cannot find synonyms and antonyms of every word in the text and which can properly fit there without changing the meaning of the content.
Rearranging the order of the words
By shuffling or rearranging the order of words in any sentence can also help to remove plagiarism. Rearranging the words is mandatory to be done wisely. It can make your content senseless. It is one of the ways can be used if the similarity index is not high.
As discussed above there are so many ways to remove plagiarism if done wisely. Plagiarism is always a matter of worry and strictness towards it is increasing every day and it is a must.  Writing a thesis or collecting the data for the thesis is not an easy job and after completion when you find it plagiarised, all your efforts are in vain. We have a team of Experts helping researchers in dealing with this serious problem of plagiarism. For more guidance related to plagiarism removal, you can talk to our experts.