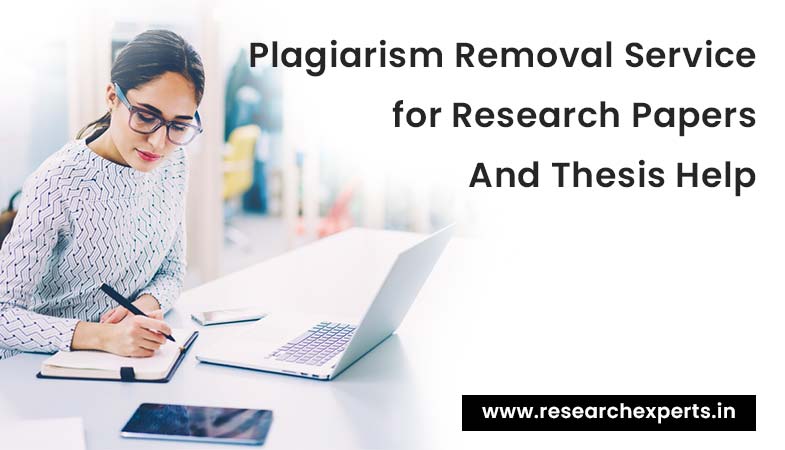 Plagiarism Removal Service for Research Papers
Total Views: 6,781
Daily Views: 1
Plagiarism Removal Service –
Plagiarism Check
At Research Experts we offer services in the field of research academics. We provide mentoring to the students in the field of research, plagiarism removal service, and thesis/dissertations from synopsis to the final report.
Research Experts understands the difficulty of research paper writing and offers credible assistance, which will make the plagiarism removal process easier and more efficient. Our materials are accepted in International Journals at a success rate of 99%.
Two Major Service related to plagiarism
Plagiarism Check is one of the services of research experts. The process of plagiarism check is only performed by the software which is standardly acceptable by all institutes all over the world or by manually checking your research work if it is plagiarised or not by our team of Experts. Our services will provide similar reports to what the HEI accept.
Plagiarism Removal is the process in which our team of experts perform plagiarism detection manually and then remove it from your research work. Providing you with fully unique content of research work which is free of plagiarism.
We provide plagiarism removal services for Research and review papers/Thesis/Dissertation and its synopsis for various Colleges & Universities for all courses.
In case you want more improvements in your file, our company guarantees up to 3 free revisions under our Revision Policy.
If your query is not here, please contact using the contact form or send us a mail at:
Features of our plagiarism services
– Editing and proofreading of complete content
– Plagiarism reduction under 10%
– No change or deletion of the original context
– Grammar correction
– Instant plagiarism report
– Delivery before Deadline
– Expert guidance
– 3 Free revisions under our revision policy.
If you have any questions or queries, or if you would like to contact us for a quote, please get in touch and we will get back to you as soon as possible.